Note: August data below is the most recent available from the National Association of Realtors®
According to National Association of Realtors® (NAR) data, sales of existing homes dipped in August for the fourth time in five months. A low supply of homes continues to impact home sales. Nationally, the Northeast and Midwest saw sales gains, while declines occurred in the South and West.
Total existing-home sales (measuring transactions for single-family homes, townhomes, condominiums and co-ops), fell 1.7% to an annual rate of 5.35 million in August against 5.44 million in July.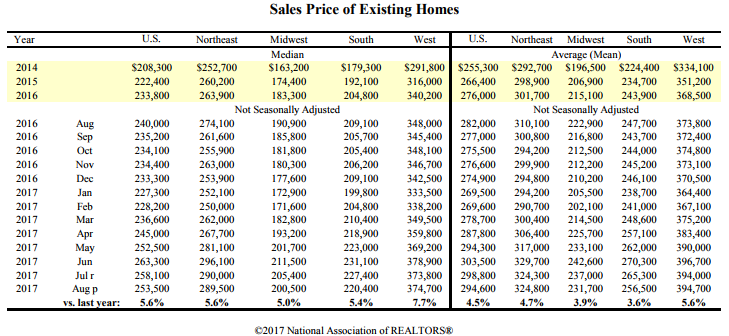 NAR's chief economist, Lawrence Yun, indicated that the dip in existing sales created headwinds in August despite ongoing demand for homes. "Steady employment gains, slowly rising incomes and lower mortgage rates generated sustained buyer interest all summer long, but unfortunately, not more home sales." Yun added, "What's ailing the housing market and continues to weigh on overall sales is the inadequate levels of available inventory and the upward pressure it's putting on prices in several parts of the country. Sales have been unable to break out because there are simply not enough homes for sale."
Housing Data Highlights
August's median existing-home price (all housing types) was $253,500, a rise of 5.6% over August 2016 ($240,000). August's price gains mark the 66th straight month of year-over-year gains.




Total U.S. housing inventory at the end of August fell 2.1% to 1.88 million existing homes available; this is 6.5% lower than a year ago (2.01 million) and has declined year-over-year for 27 consecutive months. Nationally, unsold inventory sits at a supply of 4.2-months at the current sales pace, down from 4.5 months a year ago.




First-time buyers drove 31% of U.S. sales in August, a dip from 33% in July and the lowest share since August 2016 (also 31%). For all of 2016, first-time buyers were responsible for 35% of sales.




Freddie Mac data indicates that the average commitment rate for a 30-year, conventional, fixed-rate mortgage dropped to 3.88% in August from 3.97% in July; this is the lowest rate since November 2016 (3.77%). By comparisin, 2016's average commitment rate was 3.65%.